The forum's main goal is the development and commercialization of new technologies, the popularization of world technology brands and the creation of new tools for international cooperation in the field of innovations. This year, the main agenda of the Forum was digital economy. Experts from all over the world discussed technological investment, latest research and developments, global trends and future market forecast. For three days Skolkovo Innovation Center became the place where professionals, students, businessmen and entrepreneurs from all over the world, could meet, share knowledge and experience in the sphere of technology and innovative development.
The Forum hosted more than 90 various events: from panel discussions, presentations and lectures to workshops, pitch sessions and hackathons. All events were organized and designed to have interactive formats. For three days Skolkovo technopark hosted under one roof students, professors, scientists, CEO's of global corporations, developers and simply interested people. Everyone had an opportunity to share their professional opinion, discuss topics that they were interested in and take part in open debates. 
Since Pharm-Sintez.Lab is a resident of Technopark Slolkovo, out team took an active part in this forum. The company had a chance to present its' latest development and achievements in nuclear medicine and chemistry. We were very pleased to receive a very high attention to our company from young scientists, investors, CEO's of large corporations and other visitors. During those three days our colleagues had more than 30 business meetings and informal talks.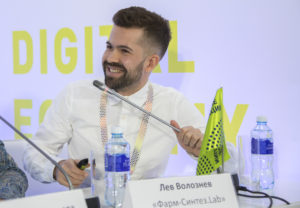 Furthermore, as a very successful start-up company, Pharm-Sintez.Lab took part in plenary session with Prime Minister of Russian Federation – Dmitry Medvedev, Xavier Bettel (Prime Minister of Luxembourgish), Herman Gref (CEO of Sberbank of Russia), Jack Ma (CEO of Alibaba Group), Jacqueline Poh (Chief Executive, GovTech, Singapore) and Liam Maxwell (British technology executive and public servant). The agenda of the plenary meeting was digital technologies and innovations. Each speaker gave their professional opinion about the role of digital technologies in future in their field.

Pharm-Sintez.Lab would like to thank all participants for their interest to our company and time, they dedicated to the forum. A huge thank you to the whole team of Technopark Skolkovo for a fantastic organization. We look forward to attending Open Innovations next year.